Other Scholarships & Awards
These are scholarships or awards that are presented in memory of Adam, at events including:
The Brick Invitational Hockey Tournament
The Kamloops International Bantam Ice Hockey Tournament
Montmartre School Graduation
THE BRICK INVITATIONAL HOCKEY TOURNAMENT
Adam Herold Memorial Award
At the Annual Edmonton Brick Invitational Hockey Tournament, a $2,500 Scholarship will be awarded in honor of Humboldt Broncos player Adam Herold, who played in the tournament for the Saskatchewan Jr. Pats in 2011.  The Scholarship will be awarded to a player who best exemplifies the following criteria:
Academic excellence
Community involvement
Role model characteristics
Positive attitude
Athletic Accolades
Beginning with the 2000 Jr. Pats and going forward every year for ten years, a letter will be sent to Jr. Pats Alumni asking interested players to apply for the Adam Herold Memorial Scholarship.
The Adam Herold Scholarship Committee will review all applications and determine a short list.  They will conduct a telephone interview with each of the nominees and then select the winner. The award winner will be chosen in June and will be presented with a letter acknowledging the award during the closing ceremonies of the Brick Invitational Tournament.  The payment of the scholarship will be conditional upon the winner providing proof of enrollment in a secondary school.
The Adam Herold Memorial Scholarship awarded by the Brick Invitational Hockey Tournament was awarded to:
2018: Carson Miller. Carson was a member of the 2000 Jr. Pats.
2019: Carter Belitski. Carter was a member of the 2001 Jr. Pats, the same year Adam played in the tournament.
THE KAMLOOPS INTERNATIONAL BANTAM ICE HOCKEY TOURNAMENT
Adam Herold Award
The Kamloops International Bantam Ice Hockey Tournament (KIBIHT) introduced the Adam Herold Award which is presented to a player who shows great courage and perseverance. The player will be someone who has overcome adversity with leadership and dedication to the game of hockey. Adam participated in the KIBIHT tournament during his time playing with Prairie Storm and was named the tournament's top defenceman and a first-team all-star in 2016.
The first recipient was Rylan Davis from Fort St. John B.C. Read more about Rylan here.
MONTMARTRE SCHOOL GRADUATION
Adam Herold Memorial Scholarship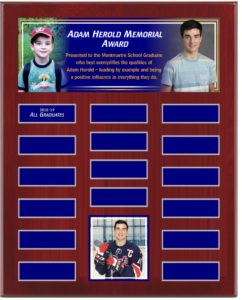 This $500 scholarship is presented by the Herold Family to a graduating student from Montmartre School in memory of Adam. The award is presented to a student who best exemplifies the qualities of Adam Herold – leading by example and being a positive influence in everything they do.
The Adam Herold Memorial Scholarship (Montmartre School) awarded by the Herold Family was presented to:
2019: All Graduates in Adam's graduating class.
2020: Bradie Kress
2021: Christina Stringer
2022: Kaden Englot
2023: Saralyn Weisner